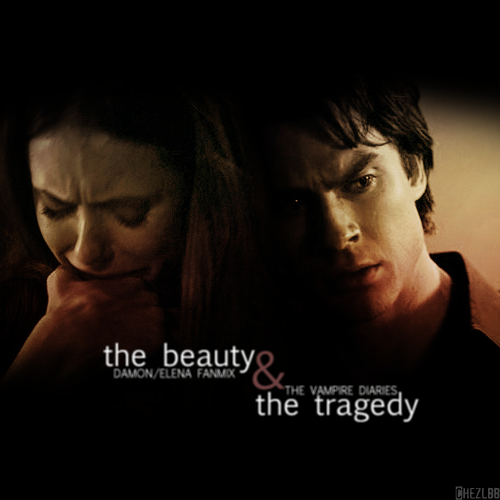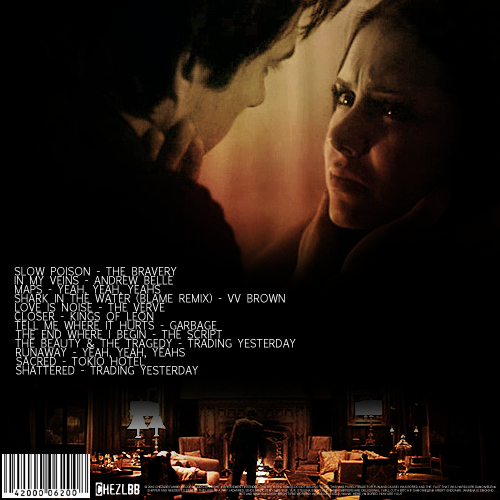 Okay this a fanmix I made for the Damon/Elena storyline in 2x01. I just picked songs that I thought went with it. I hope I accomplished that. I'm working on a fanmix for the Damon/Elena bits in 2x02 now, and I plan to do one for every episode which include DE moments =D I hope you all enjoy!
SLOW POISON - The Bravery [Damon's POV]
I have found my angel
She walks upon the ground and it's cut cut cutting me down
I'm a stranger in a strange, strange land
And all my schemes are only schemes
And if this is my punishment
Then I want my crime to fit
IN MY VEINS - Andrew Belle [Damon's POV]
Nothing goes as planned, everything will break
You're in my veins and I cannot get you out
Oh you're all I taste, at night inside of my mouth
Everything will change
Nothing stays the same
And nobody here's perfect, oh but everyone's to blame
MAPS - Yeah, Yeah, Yeahs
Wait, they don't love you like I love you
Don't stray
Well, my kind's, your kind, I'll stay the same
SHARK IN THE WATER [Blame Remix] - VV Brown
Okay, you're probably wondering why I included this one since you may get confused about the meaning of the lyrics. Well in my opinion, the
'there's a shark in the water, there's something underneath my bed'
, is to do with sensing danger, which I think relates to them sensing there's trouble with Katherine's return and being worried about each other. Does that make sense? The full original song may have not suited this, but I think this remix does.
Baby, there's a shark in the water
There's something underneath my bed
Wouldn't cause you any harm, I just want you in my arms
LOVE IS NOISE - The Verve [Damon's POV]
I was blind - didn't see, what was here in me
love is noise and love is pain
Love is these blues that we're feeling again
CLOSER - Kings of Leon [Damon's POV]
She took my heart, I think she took my soul
Driven by the strangle of vein, showing no mercy, I'll do it again
Open up your eyes, you keep on crying, baby, I'll bleed you dry
I see a storm bubblin' up from the sea
Leaving me stranded, all in love on my own.
Do you think of me?
It feels so good but I'm old,
Two-thousand years of chasing, taking it's toll
TELL ME WHERE IT HURTS - Garbage [Damon's POV]
I wish that you would do with some talking, or else am I to know what you're thinking
If only people would say what it really was...what it really was that they wanted
Tell me where it hurts, to hell with everybody else
All I care about is you and that's the truth
They don't love me, I can tell, but you do, so they can go to hell
THE END WHERE I BEGIN - The Script [Damon's POV]
Sometimes tears say all there is to say
Sometimes your first scars wont ever fade, away
Tried to break my heart, well it's broke
Tried to hang me high, well I'm choked
Sometimes we don't learn, from our mistakes
Sometimes we've no choice but to walk away
It's the end where I begin
THE BEAUTY & THE TRAGEDY - Trading Yesterday [Damon's POV]
Watch your step, love is broken
I am every tear you cry
Save your breath, your heart has spoken
You already have my life
For I am finding out that love will kill and save me
Taking the dreams that made me up, and tearing them away
But the same love will take this heart that's barely beating, and fill it with hope beyond the stars
Only love
RUNAWAY - Yeah, Yeah, Yeahs [Damon's POV]
I was feeling sad, can't help looking back
Run, run, run away, no sense of time
I'd like you to stay, want to keep you inside
Lost, lost, lost my mind
Like you to stay, want you to be my prize
All along, not so strong without these open arms
SACRED - Tokio Hotel [Damon's POV]
I'm still awake for you
We won't make it together, we can't hide the truth
I'm giving up for you now
To me you'll be forever sacred
I'm dying but I know, our love will live
You break the ice when you speak
With every breath you take, you save me
I know that one day, we'll meet again
SHATTERED - Trading Yesterday [Damon's POV]
Yesterday I died, tomorrow's bleeding
Fall into your sunlight
Losing what was found, a world so hollow
And I've lost who I am, and I can't understand
Why my heart is so broken, rejecting your love, without, love gone wrong, lifeless words carry on
All this time spent in vain, wasted years, wasted gain
All is lost, hope remains, and this war's not over
DOWNLOAD ZIP
previous damon/elena fanmixes:
1
2
Comments are loved =D
FOLLOW ME ON TUMBLR
//
SUB/ADD ME ON YOUTUBE